Calibration
The output frequency is converted to a volumetric water content using a calibration derived from curve fitting laboratory and field data.

The accuracy of the duff moisture meter is ±1.5 percent at 30 percent volumetric water content and ±4 percent at 60 percent volumetric water content.

The response of the DMM600 to changing moisture content is best described with a quadratic calibration equation:

Volumetric Water Content = 5.288 + 5.905 * freq - 0.412 * freq 2

where freq is the DMM600 output display frequency in MHz.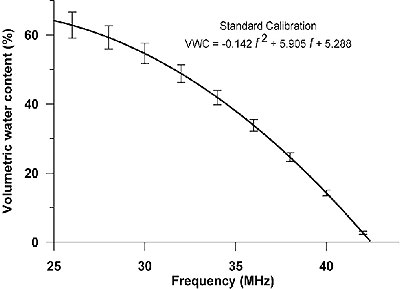 The error bars on the standard calibration curve for the DMM600 duff moisture meter show that variations are smallest for lower volumetric water contents (after DMM600 Instruction Manual, 2002, Campbell Scientific, Inc., Logan, Utah).
Gravimetric and Volumetric Water Content … What's the Difference?
The DMM600 standard calibration output gives the water content measurement results in volumetric terms (VWC). Most fire managers and fire behavior modeling programs, such as FOFEM and FARSITE, use gravimetric water content (GWC) to describe duff moisture content.

The DMM 600 can display two output values—one will always be the VWC based on the standard calibration and the second value is chosen by the user. Most fire managers choose to program the GWC as the second value. This is easy to do and can be set up within the duff moisture meter prior to going to the field.

How the DMM600 Works (222K PDF file)
describes the differences between measuring moisture content gravimetrically and volumetrically;
describes the simple process of downloading the gravimetric water content calibration into the DMM600; and
provides an example of duff moisture meter measurements being used in the FOFEM model.