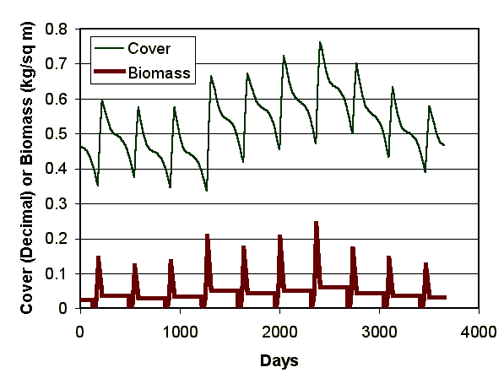 Figure 1.
Daily variations in predicted residue cover and above ground live biomass for tall grass vegetation for the Springfield, CO climate for ten years.
The Disturbed WEPP template has two overland flow elements.
The WEPP model allows a hillslope to be divided into segments with similar soils and vegetation, called overland flow elements. Disturbed WEPP assumes there are two overland flow elements. This allows users to specify a buffer strip below a skid trail, prescribed fire, or harvesting activity in forests. In rangelands, the user may wish to describe different vegetation in the riparian area than in the upland areas.
WEPP was released for public use in 1995 with an MS-DOS text-based interface. Updated versions of the engine were released in 1997, 1998, and 1999. This interface still can be used to run WEPP in a DOS window on most personal computers. The management file builder, however, can be run only with a personal computer running in DOS mode, and will not run in a DOS window. Elliot and Hall (1997) developed a set of templates useful for forest conditions for the DOS interface to WEPP.
WEPP is also available in a Windows version. Forest templates are under development for this version. Both interfaces run the same WEPP model; only the user interface is changed. The WEPP computer program can be updated from the USDA ARS National Soil Erosion Laboratory web site at http://topsoil.nserl.purdue.edu/weppmain/wepp.html.
Disturbed WEPP Assumptions
Because WEPP is process-based, it can be applied to conditions where the necessary input data are known. WEPP is difficult to apply, however, because of the amount of input data required. To simplify the application of WEPP to forest and rangeland conditions anywhere in the U.S., we developed a custom interface.

Soil properties are based on research findings from Forest Service research (Robichaud 1996) and USDA Agriculture Research Service (ARS) (Flanagan and Livingston 1995, Franks and others 1998). The soil file database includes four textural categories. Within each of these categories, there is a separate set of erodibility values for each of the eight types of vegetation or disturbance. Thus, the database has a total of 32 soil/vegetation conditions.

Disturbed WEPP describes vegetation for the WEPP model in a cropland format because that format provides greater flexibility. Because WEPP does not allow mixing cropland and rangeland format vegetation scenarios on a hillslope, all vegetation was described in the cropland format.

Disturbed WEPP gives both an average annual erosion, as predicted by most USLE-based erosion technologies, and the probability of a given annual erosion rate following a disturbance. The average annual erosion is more appropriate for application to rangelands, whereas the probabilities of annual erosion are more applicable to disturbed forest conditions, where a forest quickly revegetates following a disturbance.

To estimate an average annual erosion, Disturbed WEPP generates a stochastic climate for the climate selected, for the number of years specified. The WEPP model then runs a daily simulation for the specified period of time, and calculates the average annual runoff, erosion, and sediment yield values.

To determine the probability values, Disturbed WEPP is run for the number of years requested, and the annual values of runoff, erosion, and sediment yield are generated by WEPP. Disturbed WEPP then sorts the annual values by magnitude.

For a 50-year run, the largest values estimate a 50-year return period (or 0.02 probability of occurring) value; the second largest, a 25-year return period; the fifth largest a ten-year return; and the 20th largest a 2.5-year return period.

The average value is the same as a 2-year return period regardless of the number of years of simulation selected.

Table 1 shows the return period associated with the sorted position for different numbers of years of simulation.
Table 1. Relationship between magnitude of annual predicted value and return period for different lengths of simulation.
Order in magnitude
Return Period for the given years of simulation
Years of simulation:

10

20

50

100
Greatest

10

20

50

100
Second

5

10

25

50
Fifth

2

5

10

20
Tenth



2

5

10
Twentieth





2.5

5
Middle

2

2

2

2
Forest Assumptions
For forest conditions, there are two levels of forest age: 5-year-old and 20-year-old. By the time a forest reaches 20 years of age, the impact of the canopy and residue accumulation is sufficient to provide as much erosion protection as can be achieved from vegetation.

The 5-year-old forest is considered a reasonable condition to describe a forest that has been heavily logged, leaving some side trees and considerable groundcover, or to describe a forest one to two years after a prescribed fire, or two to three years after a wild fire.

The skid trail condition describes a compacted, bladed skid trail with very little cover.

The prescribed burn and wildfire conditions contain soil properties similar to those observed in research (Robichaud 1996).
Range Assumptions
Three plant communities are provided for rangeland conditions: short grass, tall grass, and shrubs. Typical heights and spacings for each of these communities are described in the WEPP management file (see appendix 1).
Climate
Several climates (Birmingham, AL; Flagstaff, AZ; Mount Shasta, CA; Denver, CO; Moscow, ID; and Charleston, WV) are listed in the climate list as stock climates for Disturbed WEPP. These climates are provided to allow the user to quickly select a regional climate for an initial run.

Most users will prefer to click the

button and use the Rock:Clime weather generator to select desired climates from the 2,600 sets of climate statistics in the database.
Users may select several nearby climates to determine the sensitivity of their site to climate effects. Up to five sets of custom climate statistics may be selected for the Disturbed WEPP interface.
30 years of simulation is generally adequate for average values, and 50 or 100 years for Return Period Analyses.
The user must specify the number of years of simulation. For climates with more than 500 mm of precipitation, 30 years of simulation is generally adequate to obtain an estimate of the average annual erosion, and 50 years is adequate for the probability distribution of erosion.
For drier climates, 50 or more years of simulation may be needed to achieve an average value, and 100 years for the probability of a given amount of erosion occurring. In dry climates, there are more years with little or no erosion, so a greater total number of years is necessary to ensure that there have been an adequate number of wet years for the analysis. The maximum number of years in Disturbed WEPP is 200.
Users may wish to carry out some preliminary runs for some typical local climates to determine how many years of run are necessary for their conditions to ensure a stable average erosion value.
When the

button is activated, the ARS CLIGEN weather generator uses the climate statistics from the selected station to generate a daily weather sequence for the number of years specified. The WEPP model reads the generated daily weather to predict the erosion for the specified conditions.
Soil Texture
The erosion potential of a given soil depends on the vegetation cover, the surface residue cover, the soil texture, and other soil properies that influence soil strength. Because research in forest and range conditions is limited and data are not available to support a detailed database, only four soil textures (sand, silt, clay, and loam) are listed for Disturbed WEPP.