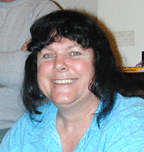 Marrina Frederick
Forestry Technician
Priest River Experimental Forest
4907 East River Rd
Priest River, ID 83856






I was born in Jacksonville South Carolina while my Dad was there in Marine Corps boot camp. We bought a ranch in the Priest Lake area when I was 2, but traveled over the southwest each summer as my Dad worked construction jobs to pay for the property. This continued until my sophomore year in high school. Until then, I never attended less than two schools a year but finally it was time to stay home and ranch.
I've been married (second time around) to my husband Ralph for 15 years. He was raised in Deary Idaho and works as a logger. I've got 3 kids, Jake, Justin, and Gracie. Ralph has 4 kids, Tara, Valerie, Kimberly, and Lance. We also have 2 grandchildren. My husband and I live at the Forest.
I've worked at the Experimental Forest for the past 15 years. I love my job and the variety of things that come with it. I am responsible for housekeeping the residential buildings and maintaining the lawns, flower beds and genetics nursery. I also do the daily weather observations, monthly weather summaries, and process the weekly precipitation sample for the National Atmospheric Deposition Program.
My interests are cooking, sewing, all arts and crafts, canning, and raising all kinds of animals. I enjoy fishing, camping, and walking in the woods. I love horses, music, and my dog.