United States
Department of
Agriculture

Forest Service

Rocky Mountain
Research Station
Ft. Collins, CO

General Technical Report
RMRS-GTR-118-CD

February 2004

---

Introduction

This field guide has been developed specifically to complement Forest Habitat Types of Northern Idaho (Cooper and others 1983). The geographic area covered is Idaho's forested lands from the Salmon River drainage north to the Canadian border.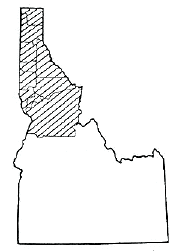 This guide is not meant to be a comprehensive taxonomy to northern Idaho flora, but rather an identification aid for species having forested habitat type indicator value within this geographic area. Criteria for species selection were: common overall occurrence in mature to old-growth forested stands, special environmental or habitat type indicator value, and special interest within northern Idaho. Additional species have been included that are morphologically similar to and often confused with selected indicator species.

Species descriptions are based on Flora of the Pacific Northwest (Hitchcock and Cronquist 1973) and Vascular Plants of the Pacific Northwest, Parts 1-5 (Hitchcock and others 1955-1969). From the above sources, we constructed characteristics tables, dichotomous keys and conspectuses as a simplified means to initially determine genus or species. Within the characteristics tables, pseudo-keys using one or more easily determined characteristics, such as leaf arrangement, are used to group species. Final identification must correlate the specimens' characteristics with the species description. The species descriptions and keys were developed for people with a minimum of botanical training. We emphasized characteristics that are useful for field identification of the species within the context of a northern Idaho location. In other geographic areas having a different floristic composition or environment, these distinctive field characteristics may not be usable for identification of a species.

Citations for a number of authoritative floras for northern Idaho are included in the References. This publication is the product of two previous informal drafts. Many corrections, additional species, keys, species comparison guides, and handy field characteristics have been added. As updating, correcting, and improving are unending tasks for botanical field guides, the authors would appreciate receiving comments, suggestions, or criticisms at:

USDA Forest Service
Rocky Mountain Research Station
Forestry Sciences Laboratory
1221 S. Main Street
Moscow, ID 83843

The Species Description Format page illustrates and explains the format used for each of the species described in the guide.